PLEASE TAKE NOTE: The weekly period charge is from 11 a.m Saturday to 9.30 a.m the following Saturday and is not affected by either late arrival or early departure. However, up to mid May and after late September, caravans may be sited on a nightly basis and will be charged pro rata. In all instances, the Park Manager must be consulted.
All provisionally booked sites must be confirmed in writing, with the full deposit by January 15th, after which any unconfirmed sites will be left to applicants on our very long waiting lists. Provisional booking fees and deposits are non-returnable on cancelled bookings. Furthermore, in the case of non-arrival, or late cancellation, the full amount must be paid. SITES CAN ONLY BE BOOKED UPON ACCEPTANCE OF THESE CONDITIONS.
Acceptance of any booking is also subject to your co-operation on the following points:
CARAVANS & CONTINENTAL CARAVANS
Bookings can only be accepted for touring caravans which do not exceed caravan manufacturers' normal standard limits of construction in length, width and height.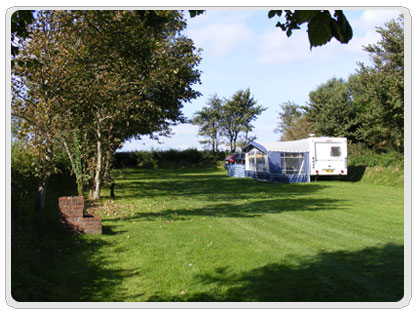 Under no circumstances will we accept larger "oversize" caravans, including those with extendable sides or bodywork. If you are in doubt as to whether your caravan complies with these conditions, or if you caravan is not of a standard British design, please consult with us at the time of your proposed booking. Failure to do so may nullify your booking.
In the case of "Continental caravans", due to the often reverse nature of their layout, in particular the door being on the opposite side, pitch options are very much reduced and will be allocated upon arrival.
DOGS: Well-behaved dogs are welcome up to a maximum of two per site. Dogs must not be allowed to foul on site and must be walked off site. Owners must ensure that their dogs do not annoy other residents in any way. Dogs must not only be under control at all times, but not allowed to bark unnecessarily. Noisy dogs are our largest source of complaint. Remember, not everyone likes dogs; failure of dog owner to respect this position may result in total ban.
BICYCLES, BALL GAMES ETC:
As our caravan site slopes and to ensure everyone's safety and peace of mind, the use of bicycles, scooters and skateboards are prohibited on the caravan site. Furthermore, we would also request that ball games, kite-flying, frisbees etc are best played on the beach where there is more space as in some instances, this has resulted in damage to other residents' property. Please note, too, that we would rather no flying of wind socks, banners, flags etc.