Caravan Parks – Beach Site and Manor Farm Site
Our unique and coveted Beach Site enjoys unrivalled panoramic views over the Atlantic. There are very few sites anywhere in the South-West that occupy such a favoured position, nestled as we are right on the multi-award winning Putsborough Sands. Once sited and with no need for the car, you can feast your eyes on a spectacle of hundreds of acres of clean golden sand and a sea that at different times can be a challenge for the most expert surfer or a  calm glistening ocean which invites you to come and bathe.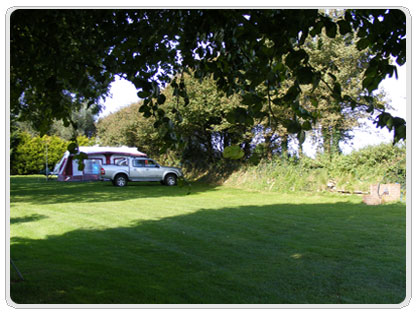 Our Manor Farm site, some 400m inland, is a small, yet spacious farm site. Whilst it doesn't enjoy views of the bay, its attraction for many is the opportunity for total peace and tranquillity away from the rigours of 21st century life! The pitches are large and secluded and booking dates are much more flexible. You can access the beach in about five minutes via a footpath across our fields and for those that wish to drive, car parking at the beach is complimentary. Furthermore, the shower and laundry block for both sites is actually at Manor Farm.
With two wonderful, yet different sites to choose from, either for a holiday or as a base to explore further afield, we are very popular and pride ourselves on our level of service. No wonder then that we are very busy and that booking is essential, especially from mid May to mid September.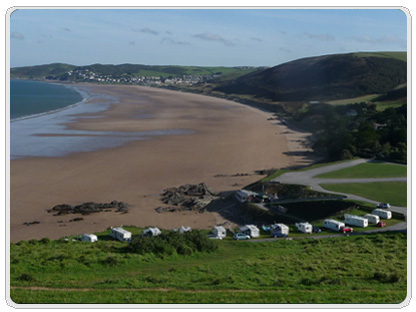 Putsborough Sands is the perfect base from which to explore all that North Devon offers –  from fantastic beaches, great surf, renowned gardens at Marwood, Rosemoor and Hartland, the National Trust at Arlington, Lundy Island, Great golf, or family entertainment at Watermouth Castle, The Big Sheep, Exmoor Zoo Wildlife & Dinosaur Park……..the list is endless!!……..So, whether you wish to explore, surf, walk or simply chill out, we have it all and we look forward to hearing from you.
Caravan Parks – Tariff & Vacancies – click here
N.B. Our Manor Farm Site enjoys a  discounted  rate on the basic weekly charge throughout the year (see tariffs and vacancies) and will be open during October – for further details please contact us.
Camper Vans
You can stay overnight in your campervan at Putsborough Sands in the adjacent car park area in "The High Vehicle Park". Please see our  camping, campervan and motorhome section.